For Tsitsi Chimwai, a 35-year-old mother of two from the Chief Neromwe area in Chiredzi District in Masvingo Province, gathering firewood for her family is a demanding task as nearby trees have been cut down hence she and other women walk as far as five kilometres.
Zimbabwe being a low-middle class economy, has not yet reached a stage of fully using green-energy sources and rural communities mainly rely on traditional fuels for their day-to-day running. Firewood collection contributes to deforestation, which is a major driver of land degradation subsequently leading to climate change and global warming.
"We are very much concerned and live in fear daily as we brave the forest in search of firewood so that we cook for our families, if we had money it would be better as they are some men who poach firewood and sell unlicensed but we cannot afford and we are left with no choice but to go and look for firewood ourselves," she stated.
Fetching firewood is regarded as a woman's job and at most, we walk for over 35 minutes as the trees nearby have been cut for different purposes such as firewood, roofing and clearing for habitation as the population keeps on growing," said Ms Chimwai.
She added that they brave dangers such as rape and arrests as some tree species are protected and there are areas they are not supposed to fetch from.
"We are at times arrested as one of the women last year was detained and luckily some men from the village pleaded for her to be released. Some have brought sexual harassment complaints and there have been reports of women that have been raped in the process," she added.
Ms Chimwai says that to mitigate these challenges and as a way of fighting deforestation, they have embraced "Tsotso stoves".
These stoves are skillfully designed open clay pots used as a cook stoves and were derived from the Shona word Tsotso meaning 'small sticks' which are used as a source of energy to cook a meal. It also became a source of income for women who can construct or make the stove since it requires skill and know-how.
"We are grateful for the knowledge we acquired through various stakeholders and organizations that have taught us skills of making and using Tsotso stoves. These stoves are efficient and only use sticks and this means that we now do not risk our lives fetching firewood and also save the forest as we do not cut down trees and thus curbing environment degradation and climate change," Ms Chimwai added.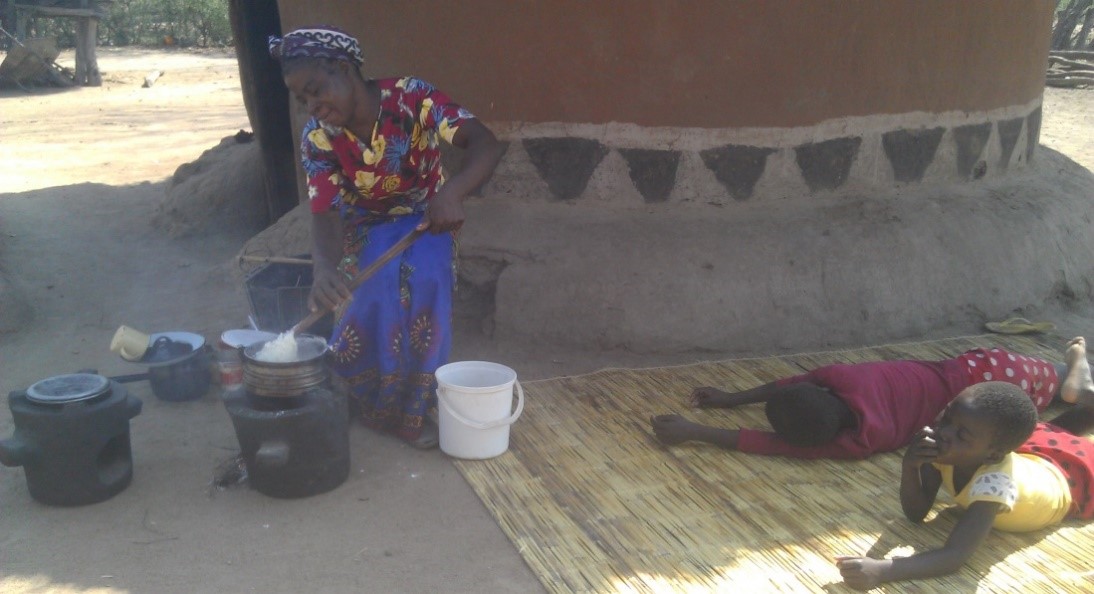 Another woman Chiedza Maroto who is from the same locality as Chimwai revealed that before they started using the Tsotso stove, they used to go into people's plots to fetch firewood since the forests near her area have been all cleared.
"I stay with my mother-in-law and family members and as the only daughter-in-law, I am expected to do everything around here. Already we are having a crisis where there are no forests where we can fetch firewood since it has been all cleared. That means we have to go far to look for firewood and just because I will be alone, I won't be able to carry too much, usually, the logs do not go beyond three days and I am forced again to go back there," she narrated.
"These forests where we will be going are people's plots and we would be trespassing. There we are exposed to attacks by the owners of the plot, get arrested or even be attacked by wild animals."
"However the Tsotso stove initiative has been a liberation for a woman like me. I can multitask and I no longer have to waste time and risk my life whilst looking for firewood. An arm full of the sticks can be enough to cook a whole meal for a week."
Whilst there are efforts to fight against gender-based violence, women like Ms Chimwai and Ms Maroto are exposed to dangers of rape, attacks and conviction while playing the gender roles where they are still expected to do all the household chores from fetching firewood, water and cooking amongst many other chores.
Apart from having to face these challenges, women in rural areas are exposed to health effects and pollution from using firewood.
These cookstoves are an initiative introduced by the Ministry of Health and Childcare (MoHCC) in partnership with UNICEF, under the Sustainable Energy for Health Facilities and Surrounding Communities Programme (SE4HF). With funding support from the Government of Sweden, SE4HF seeks to provide a more sustainable solution to protecting the environment while encouraging financial freedom for women in rural areas.
Sustainable Energy for Health Facilities and Surrounding Communities Programme (SE4HF) is a community-driven initiative which started in Manicaland and the Midlands to provide integration of community systems in finding sustainable energy solutions for the vulnerable people and later spread across the country through projects like tsotso stove, biogas, solar energy and store dust.
Besides being efficient, fast, easier the use and relief for most women, Tsotso stoves have been a major player in the fight against deforestation and land degradation in Chiredzi and across the country.
Zimbabwe needs 9 to 11 million tons of firewood each year for domestic cooking and heating, and 1.4 million tons for tobacco curing which shows just how many trees are being cut in the country thus leading to desertification.
Deforestation is a major driver of degradation because it leaves the land bare, making it susceptible to various forms of erosion. Statistics at hand show that the country is losing 330 000 hectares annually as a result of deforestation according to the Forestry Commission.
Whilst Zimbabwe in 2010, Zimbabwe had 1.06Mha of tree cover, extending over 2.7 per cent of its land area, in 2021, it lost 9.05kha of tree cover, equivalent to 3.82Mt of CO₂ emissions which are chained to impact on climate change.
Africa Green Stimulus Programme estimates that 60 per cent of the continent's population does not use electricity as an alternative source of energy other than wood fuel and that this has an advanced impact on biodiversity.
EnviroPress Zimbabwe Trust programmes manager Upenyu Chaota reflected on the effects of deforestation and its implication on the environment and climate change saying it also weighs heavily on women and vulnerable groups.
"Deforestation is the biggest challenge being faced by many communities in Zimbabwe. What has exacerbated this crisis over the years is the increasing energy demand. As you know, the Majority of Zimbabwe's rural communities rely heavily on firewood for energy and this has put massive stress on the country's forests."
The National Development Strategy 1 (NDS1) document acknowledges that Zimbabwe has lost a significant chunk of its national forests due to deforestation and this has hurt the environment. Trees play a pivotal role in balancing the natural ecosystem.
"Trees are a key cog in the fight against climate change as they absorb carbon gases from the atmosphere and store them while releasing oxygen.  When a tree is cut down, it releases carbon gas into the atmosphere and this is bad for our climate," Chota stated.
"Without trees, communities are left exposed to the vagaries of climate change and this calls for a collective effort in the sustainable utilization of our forests. Climate change rests heavily on the shoulders of vulnerable groups among them women and persons with disability," said Chaota.
In an interview, Masvingo Province Forestry Commission, Acting head Edwin Machokoto said deforestation is a major cause for concern and everyone should be a key player to fight the phenomenon as such government has put forward stiff penalties to those found on the wrong side of the law.
"Deforestation is a chief culprit in land degradation and contributor to climate change and global warming and as such the government has put in place punitive measures such as criminalising perpetrators, we are also trying to protect endangered species of trees and as such there are penalties in form of a jail term of up to nine years."
"Apart from this, we are engaging stakeholders in tree-planting such as the Masvingo City Council in partnership with Fauna and Flora Organisation (FAFLO) this year managed to plant 500 trees in March 2022. We commemorated World Tree Planting Day as a way to embrace the United Nations initiative to curb deforestation."
"Extensive tree planting programmes whatever form they take either by individuals, groups (schools, churches, etc.), corporates or non-governmental organizations will help us maintain a balance between what we are losing and what we are gaining," said Machokoto.
In August 2021, the Ministry of Environment, Climate, Tourism and Hospitality through the Forestry Commission, working in conjunction with the Environmental Management Agency, Zimbabwe Parks and Wildlife Management Authority, the Ministry of Lands, Agriculture, Water, Climate and Rural Resettlement, police and local authorities suspended the issuance of firewood licenses, hence supply has dwindled and the only alternative left is for these women to brave dangers such as arrests and sexual harassment and rape whilst fetching firewood.
One such woman was 17-year-old Tsitsi Mangwanya* who was attacked and raped in 2021 whilst collecting firewood with her friend and is currently kept at the Safe Shelter in Hauna, Nyanga which is a collective partnership effort by the United Nations Population Fund (UNFPA) and the Family Aids Caring Trust (FACT).
United Nations Environment Programme (UNEP) notes that forests cover a third of the world and that 12 million hectares are lost every year across the globe and yet 1.6 million people earn livelihoods from the forests. UNEP, therefore, warns countries of the expected dangers of deforestation that the body said will affect the climatic conditions across the world and that they should take immediate action in mitigating the impact.
As the world gears for COP 27 in Egypt, environmentalists hope that Zimbabwe and other countries will put more efforts and funds towards investment in green initiatives and renewable energy.
*Name changed to protect the victim
This article is part of African Women in Media (AWiM)/UNEP Africa Environment Journalism Programme