Bamenda
Welcome to Cameroon,  where people, and women, in particular, are working hard to turn any problem into an opportunity worth celebrating. In the city of Bamenda, you meet a young woman and her team tackling biodegradable waste profitably.
Arnette Tewan, a young environmentalist, and  41 other women recycle waste to make better end products like natural gas and organic fertilisers, which are eco-friendly and used for sustainable agriculture. Annette graduated from the University of Bamenda as an Environmental Engineer two years ago. Apart from blending the theories acquired in school, Arnette says it was an opportunity for her to contribute to fighting environmental problems by providing sustainable solutions that can also earn her a living through the Royal Renewable Energy Cameroon (RRECAM) project that she started with her peers.
"I started year ago upon graduating from the University of Bamenda. I work with 41 other women now in a pilot project where we are engaging about fifty households who are currently producing compost, organic fertilisers (brown gold) for their farms and the biogas in their kitchens for cooking.
Arnette says it takes her and her team six months after collecting waste to have their finished products. She further explains that for a 20-metre cube plan, it will take them two months to get their biofertiliser and biogas, which she says is securing her financially and health-wise.
Arnette says she engaged in this project because she discovered the environmental impact of illegal waste disposal in her community as a graduate. It goes on to say that illegal waste burning on streets by individuals has contributed significantly to an increase in environmental pollution, particularly the production of carbon dioxide and nitrous oxides, which have both short- and long-term effects on the population. She said stress, headaches, dizziness, and eye and respiratory irritations are some of the effects related to waste exposure. Not forgetting cardiovascular diseases such as cancer, brain, nerve, liver and kidney failure.
Arnette and her team collect garbage from the streets, dumpsites, homes, and animal droppings and recycle them to produce bio fertilisers and biogas.
Annette says that working in a village setting where women are mostly housewives, her dream is to become a great employer. She also thinks it will help the women generate their income for a sustainable and better life.
She narrated that composting always takes about six months, but they can now confidently sell a kg of bio-fertiliser for CFA 300 ($0.48) and a litter of bio-slurry for CFA 250. The amount of income per month will depend on the quantity of waste and the digester. Anette is providing a solution to the waste problem which has been an issue in some of Cameroon's cities.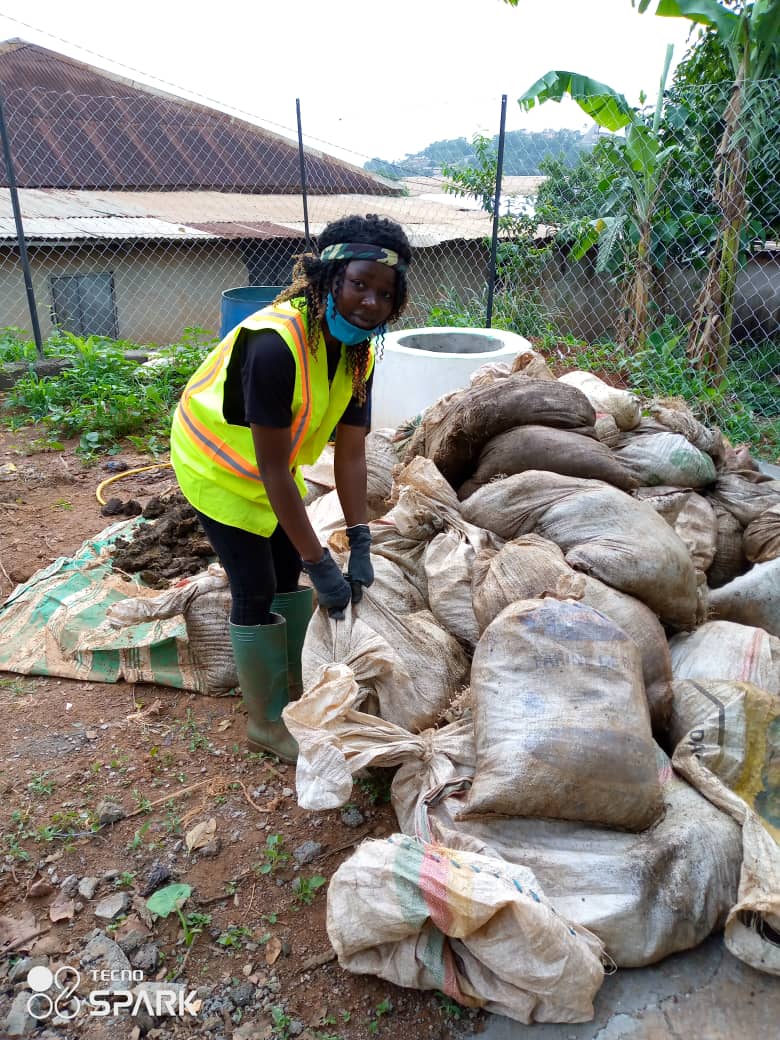 A few months ago, in the North West Region of Cameroon, City Mayor Paul Achubong held a meeting with quarter heads and civil society organisations aimed at probably managing waste in the city. However, things might not have produced the necessary results as the streets and junctions are still overflowing with garbage here and there, which health experts say is very unhealthy.
Nonetheless, environmentalists are coming up with arguments and ideas to prove that waste disposal should not be the sole responsibility of local councils or the company in charge. Women are often the most affected as they sell in terrible conditions around the cities' food markets. This has made them devise various waste management strategies. The waste comes from homes, markets, companies, schools, toilets, and even animals.
In 2021, the African Green Stimulus Program (AGSP), an innovative African-led initiative was developed to sustainably support the continent's recovery response to the devastating socio-economic and environmental impacts of the COVID-19 pandemic. One of the key elements of the AGSP is improving air quality, enhancing chemicals and waste management and promoting the circular economy.
In the race to combat climate change, some Cameroonian women devised environmentally innovative solutions to these economic, societal, and environmental challenges that will go a long way towards addressing the increasingly high unemployment rates and sustainable economic growth.
Ninna Michael, one of the RRECAM project beneficiaries, says she can boost a great harvest of healthy, green. Fresh crops from the day she started using the fertiliser have reduced the zeal for chemical fertilisers, which at times are very expensive. However, with CFA 300, one can get a kg of bio-fertiliser which guarantees fresh and healthy output.
Boma Mohammed Chi, a teacher in biogas technology in Cameroon, says about 7000 Africans die every year because of indoor pollution and pollution in general, so decision-makers have to take the issue seriously.
 Turning waste into "brown gold" 
The concept is yet to gain ground as it is still in its pilot phase, bearing in mind that many see inorganic fertilisers as the easiest form to use to get their farms fertile, not minding the long-term effects. However, Annette says her dream is to get more women involved to enable her country to fight the negative consequences of these environmental problems partly caused by people.  Annette says that converting waste is cheap, and you are sure of your manure and very clean cooking gas.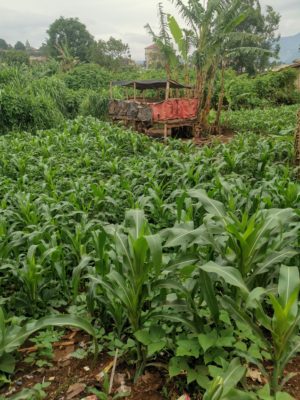 Nina's maize farm where only organic manure is used. Photo/Buba Laura Chifon/AWiM
According to the United Nations Environmental Program (UNEP), the vast quantity of waste generated by homes, markets, etc., represents a significant problem. It affects the environment in terms of air, water, and even soil pollution as no major strategy have been put in place to dispose of the waste.
The North West Regional Delegate of Agriculture, Mr Fuchi Thomas, explains why organic manure is essential to the soil, aquatic life and even human health. He says it helps to enrich the soil, is less costly, and guarantees continuity in aquatic life.
Tambe  Agbor  Ebai, an environmental expert at the North West Delegation of Environment, reveals that Cameroon's 1996 Law on environmental management is not properly implemented. It states that waste shall be treated ecologically rationally to eliminate the harmful effects on human health, natural resources, fauna, and flora. However, it is not the case, as waste is still littered and burnt along the streets by individuals without fear of the law, which says they will be punished if they falter.
At the level of the Ministry of Environment, Protection of Nature and Life, Annette's move is a laudable initiative.
We have a circular economy, which the Ministry is promoting. So the initiative is what we call "energy recovery from waste," and it is a promising technology that the Ministry of Environment promotes. Maurice Ebai said while calling on Arnette and her peers to legalise their activities if they haven't to gain support from the government.
 The impact of improper organic waste management on health
According to Dr Epie Njume, a medical expert practising with the Cameroon Baptist Convention Health Board, organic waste can create a breeding environment for microbial pathogens and disease-carrying pests like mosquitoes, cockroaches, and rats. These may spread diseases like malaria, fever, dengue fever, salmonellosis, and food poisoning.
Direct contact with fermented organic waste can also cause skin irritation.
Improperly disposed organic waste can be washed down, especially in the rainy season, into and pollute water bodies. Using polluted water bodies can cause diseases like cholera, diarrhoea, and dysentery.
Landfill waste disposal emits toxic air pollutants like hydrogen sulfide, methane, and dioxin that people living close to these sites can inhale. Inhaling these poisonous chemicals increases the risk of respiratory and eye diseases.
Environmentalists have been pushing Cameroon to start implementing the 1996 law on environmental management which states, "Waste shall be treated in an ecologically rational manner to eliminate or curb their harmful effects on human health, natural resources, the fauna and flora, and on the quality of the environment in general."
Espen Barth Eide, the  President of the 5th United Nations Environment Assembly (UNEA) during the last meeting in March, called on  World leaders to "fight pollution in all forms which are gradually becoming like an epidemic."
While Cameroon still has a long way in waste management, environmental activists hope the government would provide more training and funds for green initiatives like Arnette's to help create employment for the youth while keeping the environment safe even as the world gears for COP 27 which will be held in Egypt.
This article is part of the African Women in Media (AWiM)/UNEP Africa Environment Journalism Programme 
Do you want to publish this article? Kindly contact janet@africanwomeninmedia.com