Kisumu
It is a busy morning and Sarah Odero can be seen rummaging through dustbins placed outside salons across Kisumu City located in Western Kenya. The mother of four collects several pieces of synthetic waste hair waste and straightens them before lining them into a machine.
After doing her chores, Sarah spends the better part of her day raiding dustbins in salons to collect used weaves, and braids them so that she can earn a living.
She carefully uses the machine to weave strings from the collected used synthetic hair in a process that takes quite some time as she hopes to transform the wastes into beautiful carpets and door mats.
Many salons in the lakeside city always dump the wastes after removing them from their clients with the waste of synthetic hair contributing to pollution of the environment. The hair industry in Africa is worth billions and women go to great lengths to look good with wigs, braids, weaves and hair extensions becoming integral of their products of choice.
With the tough economic time, women like Sarah saw an opportunity to innovate from the huge pile of waste in the beauty industry where salons have been carelessly disposing of the waste of synthetic hair.
These women leave many questions unanswered as they depart to collect used weaves, and braids from salons every single morning and transform them into beautiful door mats, and carpets out of the dumped braids.
With the business of making these mats apart from utilising this waste, it has also provided employment opportunities for these women in the region where they can feed their families comfortably. This is in line with the African  Green Stimulus Programme (AGSP) element on waste management and promoting the circular economy to create jobs and empower women thus promoting sustainable development.
These synthetic hair are always dumped everywhere and the situation gets worse when the waste hair involved is made of plastics. With Kisumu producing more than 400 tonnes of waste every day, authorities claim that used synthetic hair forms a huge part of the waste.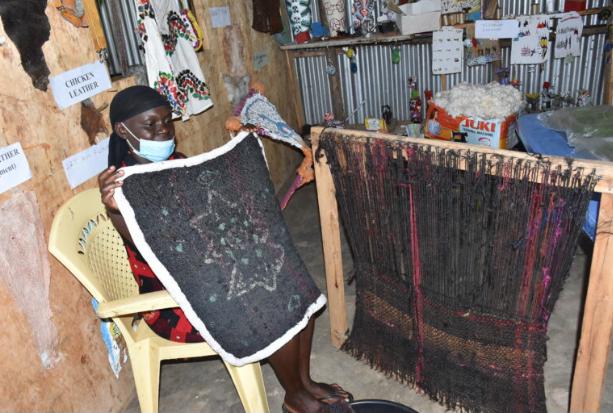 Several salon operators also admitted that they have never been keen on the impacts of the waste of human hair on the environment acknowledging that they are pollutants.
And it is against this backdrop that Sarah and several other women keen on environmental conservation have taken this step to keep the city clean.
For Sarah, she admits that the love for women to change their hairstyles frequently and dump the ones they have used contributes to environmental pollution.
"We thought of how best we can turn the used weaves, braids and wigs into something useful after witnessing how they contribute to environmental pollution," she said.
In their conservation efforts, the women have mastered how to transform the waste from synthetic hair into mats, carpets and textiles. They later sell the items and earn profits from them.
A spot check at the workshop where they work found out that the women had already made more than 10 carpets and doormats in one week alone.
Sarah says that the conservation efforts have come as a blessing to them.
"We are saving the environment from unnecessary pollution and at the same time we are also earning an income from the venture," she explains.
The prices of the carpets vary with small doormats going for between Sh500 ($50) and Sh2,500 ($250). Their clients include various residents in Kisumu and other towns.
According to Sarah, who is also the group's chairperson, they decided to venture into making the door mats using wastes from the barber shops and salons.
She added they opted that because of the spirit of the blue economy where they felt that there are some components of pollutants that end up in the lake thereby blocking the lake.
"We are a group of 7 women, we collect and use hair products from women, which contain chemicals that pollute the lake and threaten aquatic life when dumped carelessly and end up on the lake," she explains.
She says they felt that it is important to bring the hairdressers together and make them understand that whatever they are releasing into the environment is toxic.
The hard-working mother who revealed how life was hard for her and her family now reveals she can put food on her table through this initiative.
"I had no idea that human hair could be turned into something useful like this," she says.
Rose Atengo who is also a member of the group says that the mats they make can be washed whenever they get dirty and that the mats last long and are of quality.
Juliana Awuor who is also a mother revealed that within a week, she can make at least 3 mats and uses that money to pay for her children's school fees and also sustain her family.
Michael Nyanguti who is the Chief Executive Officer of Magnum Environmental Network and also an environmentalist decried the high rates of pollution in Lake Victoria.
He says most of the plastic wastes from salons are swept into the lake after being dumped into the lake.
"If only we can find a way of preventing plastics from entering the lake and filter them using nets along the waterways, we would protect the lake," he said.
He noted that rivers emptying their waters into the lake are also heavily polluted with plastic wastes thus hurting the lake and aquatic life.
Most polluted rivers such as River Nyamasaria and River Kisian have been emptying all manner of wastes in Lake Victoria. Residents have staged protests over the pollution of the rivers by some industries to no avail.
According to Deputy Director of Freshwater System at Kenya Marine and Fisheries Research Institute Dr Christopher Aura, some of the plastics break into micro-plastics and have adverse effects on aquatic life.
"Their presence in water leads to poor water quality and also threatens marine life," said Dr Aura.
He said that in the aquatic system, plastic occurs in different forms including those that are free-floating that are disposed of by wind and water, those on the shorelines and those that are dispersed after use like fishing nets.
The Kenyan Government recognises this call for gender-responsive approaches to addressing climate change by nations. Women play a key role in addressing climate change, therefore supporting women's initiatives is very important where the government should at least provide a conducive environment and space for these women to work. Providing them with suitable gear to protect themselves as they collect disposed synthetic hair waste would be a great step since they are exposed to bacteria or hair chemicals that might affect their health while pursuing the transition to a greener economy.
This article is part of the African women in media(AWIM) UNEP Africa Environmental Journalism Programme.