By Britta Mpata  
The months of November and December mark the beginning of the rainy season in Malawi, when people venture into farming activities, considering the fact that three-quarters of the population survives on subsistence farming. This year, the country is fraught with worry and anxiety, as severe floods are wreaking havoc. And in all this, women are disproportionally affected resulting in increased poverty as they have to move into camps and rely on aid. They can also not be able to provide food for their families in the camps not to mention high rates of sexual violence in such settings.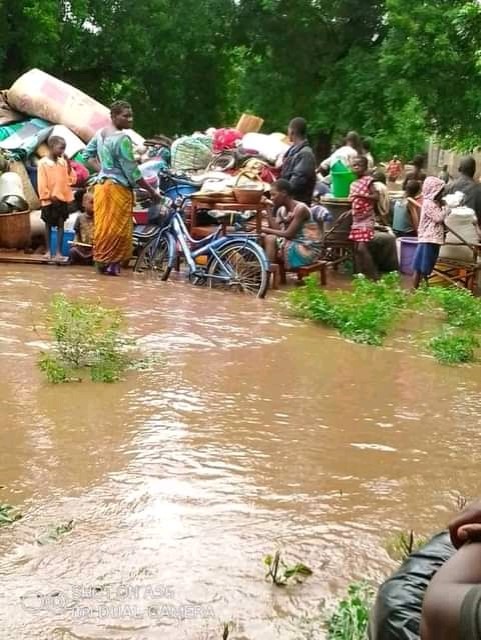 Lilongwe
The districts of Chikwawa and Nsanje which are located in the Shire Valley in the Southern Region of Malawi are the hardest hit, as they are located in lowlands.
In January 2022 most districts in the country were hit by the Tropical storm Ana, which caused flooding in many areas, claiming the lives of 33 people and affecting 193,558 households as of 31st January 2022, according to the Department of Disaster Management Affairs.
Public Relations Officer in the Department, Chipiliro Khamula, said the government provided relief items to those affected, while some sheltered in schools and churches.
Mr Khamula said despite providing relief items to the victims, the government is working on finding permanent solutions.
Solutions
One measure suggested by the government to assist the most affected areas was relocating to safer grounds, which was negatively affected due to land ownership challenges.
However, due to the magnitude of damage this year, some traditional leaders expressed their willingness to relocate. Group village Head Changuluka in the area of Traditional Authority Maseya in Chikwawa District, is one of the local leaders who is supporting relocation as a permanent solution to their challenges.
"Our safety matters more than this land we own. My people are willing to relocate to safer grounds if they are made available" said Changuluka.
Environment activist, Mathews Malata, said it is high time the Government of Malawi came up with integrated efforts to break the humanitarian crisis.
He said as temporary solutions are being provided to assist the affected individuals and households, there is a need for the implementation of permanent solutions which will suit the current state of the environment.
According to Mr Malata, the government needs to consider passing the disaster risk management bill, which he said will give the responsible authorities power to relocate people to safer grounds and also establish the disaster risk management fund.
Mr Malata added that as efforts to reduce disaster risks such as tree planting are being carried out but there is a need for other supplementary options to achieve intended results.
This is in line with the Sustainable Development Goal (SDG) 13 which calls for urgent action to combat Climate Change and its impacts. Thus the need for help to be rendered to the vulnerable regions including landlocked countries to become more resilient to climate change, which can be possible with political will and technological measures.
The United Nations Environment Program (UNEP) is among stakeholders working towards lessening the impact of flooding in countries across the globe by accelerating flood resilience, capacity building and gathering important data to influence policymaking.
Despite people losing their lives, others' properties, the effects of the storm have also put the lives of women at risk.
The relief items provided by the government and other concerned stakeholders to some are not enough to satisfy their daily needs.
According to the Women Rights Activist who is also the Executive Director of the Gender Coordination Network, Barbra Banda, this is a cause for concern.
She appealed for initiatives such as the social cash transfer to target the affected women.
Ms Fanny Mose, a mother of two from Mpweya village in Chikwawa District, is one of the women affected by the floods, who said "temporary relief items are not enough" to sustain their lives hence the need for permanent solutions.  This is because, unlike men, women need reproductive health services and sanitary kits which are not easy to get in the camps
Another woman, Rose Vinti, from the area of Group Village Head Matope in Blantyre, is living in a house that partially collapsed due to the rains with her eight children. She and her youngest son were rescued from the flooding water and survived with minor injuries but lost almost all of their properties.
Ms Vinti said as they are looking for well-wishers to assist them in renovating their house, the lack of food remains the main challenge.
"We sometimes go to bed hungry because all the food we kept in the house was washed away with floods, said Ms Vinti.
For women living in camps, basic hygiene is also one of the challenges that they are experiencing, as most of them lack menstrual pads and privacy to take care of their personal hygiene fearing exposing themselves to sexual violence which they say is rampant in the camps. For lactating mothers, it is even harder to access medical care for their children, due to damaged roads.
Village Headwoman Thewela from the area of Traditional Authority Ngabu in Chikwawa district is among women seeking shelter at Nabisi Primary School. She described their living condition as hard with inadequate assistance being provided to them.
Thewela said she feels sorry that she cannot support her people and family being a leader and a mother and requested for their inclusion in the social cash transfer programme.
A common request being made by women affected by floods is financial assistance to be able to get back to their normal lives, while efforts to relocate them to safer grounds are being implemented by the government.
For instance, Village Headwoman Thewela said most women have the capacity to do small scale businesses, but circumstances have forced them to rely on relief items.
Unlike men, most women in the affected districts belong to various women groupings, which can be used as platforms in promoting initiatives aimed at combating the effects of climate change, including tree planting.
Every rainy season the country conducts a tree planting exercise; however, participation depends on individual resources.
According to Group Village Head Sitika from the area of Traditional Authority Mkanda in Mulanje District, empowering the already available groups in the rural communities most of which are dominated by women, can bring intended results in as far as tree planting is concerned. Sitika said, unlike many organisations or companies that take part in the tree planting initiative, people in the communities have the capacity to nurture the trees and ensure that they survive.
Rejoice Gama a 26-year-old woman from Nkhuku village, in the area of Senior Chief Chikumbu in Mulanje district, is among the people who have reportedly lost their lives due to the floods.
The incident happened when she tried to cross Chikuli River along with two men who survived. Unlike the men, forces of the water overpowered Gama. She went missing for days and her body was later found in a decomposed state, a kilometre away from the Bridge where the incident occurred.
Apart from effects on people's livelihoods, the floods have also washed away roads and bridges, affecting the country economically. At the moment some areas of the country are totally cut off from the road network, with assistance being given via helicopters provided by the Malawi Defence Force.
Unless permanent solutions as outlined in the Sustainable Development Goal 13 and suggested by environmental activists are implemented, this will be a perennial problem with women bearing the brunt.
This article is part of AWiM/UNEP Africa Environment Journalism Programme