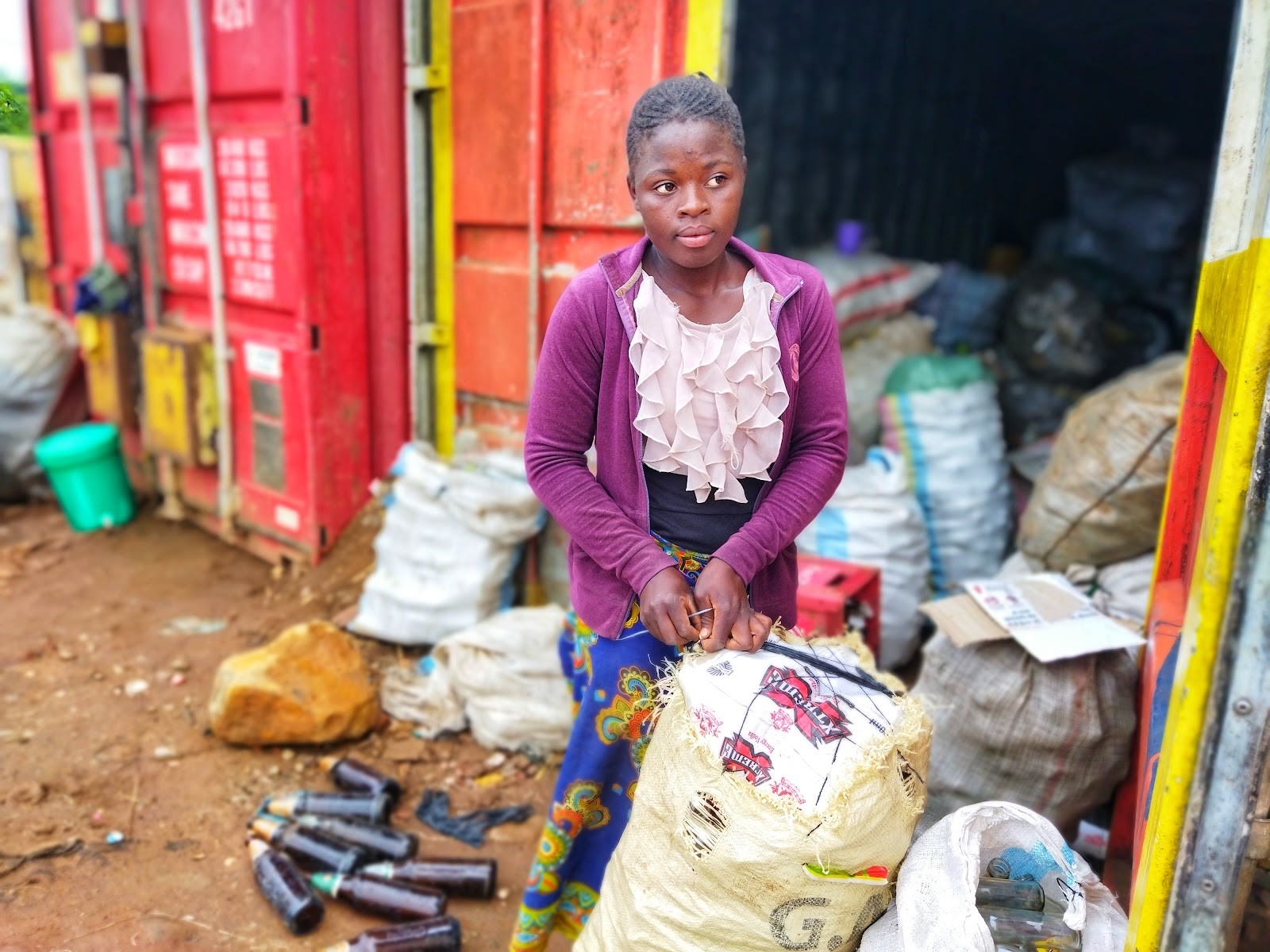 Blantyre
The voices of minibus conductors rent the air as they rhythmically shout out the prices and destinations to townships surrounding Limbe Market. While some run towards the men and women laden with plastic bags others simply call out to their prospective customers to jump on a bus promising them a ride that will be MK50 ($0,062) cheaper.
Located 10 kilometres from Blantyre Central Business District, Limbe Market is a beehive of activity where people of all ages ply their trade with the hopes of making an honest living. While many ventures into the very lucrative business of selling second-hand clothes and shoes, others are buying and selling what some deem as waste.
From glass to plastic bottles, manufacturing companies are unknowingly helping to lessen the impact of plastic and glass waste in Blantyre by buying empty bottles and containers from locals. Though this type of recycling is commendable, the inability to manage waste is a growing problem across the country.
In Malawi's commercial capital Blantyre, refuse collection is a big challenge, with the city council only able to provide a waste collection vehicle to collect waste in certain areas, leaving out the semi-formal places. In such places which include populated townships like Ndirande, Bangwe or Chirimba, communities are forced to find other means of getting rid of the waste they generate on a daily basis by either leaving it on roadsides, in rivers and river banks. In the inner city, it is not a surprise to find overflowing heaps of garbage that can remain uncollected for days or even weeks at times.
An article in UK based Guardian, Blantyre gained widespread fame after it was named the World's top city making it cheaper than New York, more peaceful than Paris and cleaner than London. Back then its population was only about 544, 000. Today, the ever-growing metropolis that has over a million inhabitants has long lost its former glory as its population constantly grows and thereby putting a strain on its little resources and infrastructure that has failed to withstand the test of time.
Trash for cash
The process of recycling is not as popular in Malawi mostly due to a lack of awareness of its importance and methods. While it is not impossible to introduce such a sustainable living practice at the household level, manufacturing companies are helping champion this cause, but at a price.
One beneficiary of this method of making a living is 20-year-old Aisha Mdeza. She ventured into selling empty plastic and glass bottles as a way of earning an income in order to provide for her two-year-old daughter's needs and also support her mother in the process.
She, along with her colleagues, buy glass bottles which they later sell to manufacturing companies.
"I got into this type of a business about a year ago after I had realised that my fellow women were able to make money from things that most people prefer to throw away."
She says that she used to have challenges even finding money for food and basic necessities, but now the situation is different.
"My life has changed for the better since I started working here, I am now able to not only provide for my daughter, but myself as well," she adds.
Unlike Mdeza who buys directly from people and sells to manufacturing companies which in most cases are distilleries, on the other side of Limbe market is Aida Tenifolo who deals in plastic.
She goes from door to door around townships buying scraps in lieu of money or new plastic cups or plates. Then the load is taken to a manufacturing plant where it is sold.
I found her outside a factory with her fellow women waiting to get their payments. She told me that she had been waiting for two hours and might even wait longer just to get paid.
"We have been here since very early in the morning and are still waiting even though the money we get is very little, it is better than nothing," she says.
She goes on to explain that this type of business was a lifesaver for her after the death of her husband who was her family's breadwinner.
Despite not being able to sell on a daily basis or gather enough plastic scraps from people's homes, she is satisfied with the MK 4,000 (US$ 5)  she makes when she does sell.
Drowning in plastic waste
According to Truss Group, a local recycling centre, Blantyre produces about 450 metric tonnes of waste per day, the majority of which does not get properly disposed of as there are no adequate disposal sites and services, especially in low-income areas.
As a result, waste is dumped openly or in rivers and sometimes burned, causing increased flooding, pollution and disease like malaria, cholera, respiratory infections.
Although the organisation is working on mitigating human and health issues in Blantyre, it is of the view that recycling or upcycling waste requires a number of actors and actions, including the separation of different types of waste at the household level.
Furthermore, ridding the city of its waste will require entities to work together in order to safely recycle the waste at scale and landfills or incineration facilities that are designed to ensure waste and emissions do not seep into the surroundings.
Borrowing a green leaf
South Africa's waste management industry is currently worth around ZAR 25 billion (Euro 1.4 billion) according to recycling International. The nation recycles over 70 per cent of used steel beverage cans while the rates for glass and plastic are 42 per cent and 30 per cent respectively. The country sends around 95 million tonnes of waste to its 826 landfill sites and less than 40% of the materials are recycled.
While such is the case, plastics recycling in South Africa continues to grow with more than 330, 700 tonnes recycled annually. This is said to be higher than the 31% figure for Europe.
This makes the country a great example for Malawi to emulate from.
But, does Malawi have the resources, expertise and capacity to achieve such strides which if properly implemented could help the country eliminate all the waste that is building upon the land and in its water bodies?
Lusayo Mwabumba who is an Associate professor in Forest Sciences at Mzuzu University says, for a start, his university and Malawi University of Business and Applied Sciences have programmes on waste management, however, the country has a long way to reach such milestones.
"Despite institutions of higher learning having such programmes, there is a need to provide adequate resources for the country's city councils to be able to collect waste and separate it for recycling purposes," Prof Mwabumba says.
The don goes on to highlight the need for the authorities to put in place measures to develop industries that can recycle waste on a larger scale and in the process create job opportunities for Malawians.
"We have a lot of waste that is generated and farmers that are recycling at a low scale, we need such farmers to be provided with the right market, we need to be organized and formalize such sectors," Prof Mwabumba adds.
On its part, the government-run Malawi Environmental Protection Authority (MEPA) admits that the country has failed to manage the waste that it generates. It points out poor mindset among the citizenry, inadequate sensitization, inadequate funding at all levels, inadequate expertise in local authorities and a lack of specialized waste management facilities as some of the factors that have contributed to the failure.
As such, the authority cites the need for all stakeholders including the media to work together in raising awareness on all environmental issues.
Waste-free future
In 2019, the high court in Malawi upheld the government's ban on thin plastics. The ban aimed at reducing the number of plastics that are produced and eventually go into the environment.
Though this landmark ruling paved the way to ending single-use plastic, the authorities hit a snag as they are currently pursuing a court case where one of the manufacturers obtained an injunction against the implementation of the ban. Once the injunction is lifted, MEPA stated that it will resume enforcement activities to ensure that all companies comply with the ban.
With the plastic that is already in circulation, MEPA has several initiatives to address it mainly through recycling. For example, it has started work with companies and organizations to ensure that the recycling of plastics is scaled up. MEPA is also implementing projects on plastic waste management, one of which will support pilot recycling projects in the country. However, for sustainability, it encourages local authorities to work together with private companies to establish a robust plastic waste collection system and create a conducive environment for more companies to invest in recycling.
On the same issue, Truss Group encourages individuals and civil society organizations to take the first step by consuming local goods, reducing the use of single-use items, and pushing businesses into improving their packaging/ supply chain and governments into providing adequate services and regulations for proper waste management.
According to African Green Stimulus Programme (AGSP), managing wastes in a circular economy pathway will significantly improve the way in which goods and services are produced and consumed, reduce waste, create jobs and empower women.
With the government working on scaling up recycling activities in the country, there is hope that women such as Aisha Mdeza and Aida Tenifolo will start to make more money from their business and in turn, help the country get back the millions of kwacha worth of valuable materials that are lost through burning waste and landfills. Although Malawi has some impressive works in the pipeline to improve waste management, it will take more than what is on paper to ensure that implementation is smooth and the intended goals are achieved.
This article is part of AWIM/UNEP Africa Environment Programme