Rushinga is one of the many areas in Zimbabwe that have for years been experiencing the wrath of climate change.
Water is a scarce commodity here, women in most villages travel between 15-20km to fetch water for domestic use 3 times per week.
"I moved here when I got married in 1974 and water was not this scarce. We used to receive rainfall that was enough to make us have good harvests. It is such a shame that women have to take turns and walk very long distances to fetch water, which has become a very precious commodity here," Maria Mushore, one of the villagers recalled.
For women, this brings out the issue of security because of reported cases of women getting attacked on their way to fetch water. There is also sanitation and food security concern given the women's gendered role in water collection and providing food for their families.
According to Water.Org, a non-profit organisation focusing on water access and sanitation, today, women around the world will spend a collective 200 million hours collecting water. In addition to time spent collecting water, millions may also spend significant amounts of time finding a place to go.
Every year, families lose a lot of livestock to terminal dehydration.
"Our livestock is in a sorry state. We have been losing hundreds of cattle, goats and sheep due to terminal dehydration. The erratic rainfall we have been receiving for the years has made the availability of water in this area, a dream."
According to Konrad Adenauer Stiftung's book Climate Change in Zimbabwe, Facts for Planners and Decision Makers, Zimbabwe's climate change will cause average temperatures to rise by about 3°C before the end of this century. Annual rainfall could decline by between 5% and 18%, especially in the south. Rainfall will become moreover a variable. Stiftung further goes on to say, the quality of the water for both urban and rural communities has deteriorated due to population pressure, climate fluctuations, cultivation and construction of watercourses and wetlands, and pollution from agriculture, industry and mining.
Life has changed, thus we have resorted to coming up with solutions aimed at tackling the water challenges we have faced for years," said Ward 13 councillor, Joseph Chiputura.
Villagers have joined hands and began the de-siltation of rivers in a bid to conserve the little rainfall the area is receiving as part of their climate change adaptation practices.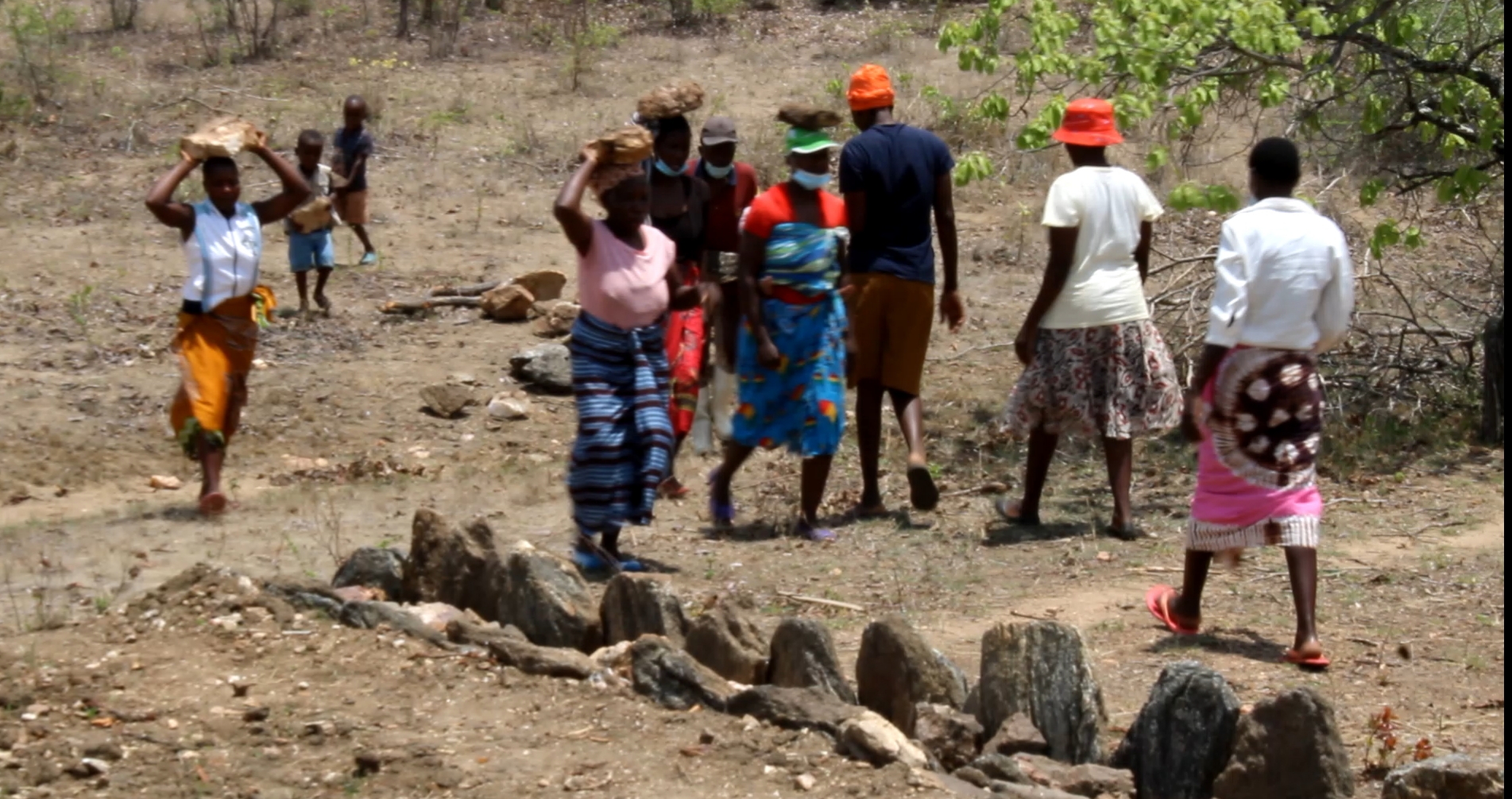 "We sat down and decided to remove the silt that has for decades been washed into many of our rivers so that we increase their storage volume. In some instances, we have also constructed Way dams that retain water after we receive rain.
"As much as the work is being done manually without any modern machinery such as scrapers and excavators, we are being extra cautious by disposing the removed silt onto poor sandy soils and creating silt traps to make sure that we reduce the re-siltation of our rivers," said the Member of Parliament for Rushinga constituency,  Tendai Nyabani.
The villagers are also hoping that the increase in their rivers' water storage volume will lead to a rise in the area's water table.
"We are very happy with the progress that the de-siltation programme has made so far and we are hopeful that our water conservation methods will result in the rise of our water table. It would be a joy to one day be able to drill boreholes that are not so far away from people's homesteads, that will give us safe water to drink," said local leader, Amai Koche.
Another female community leader, Annah Mabhande echoed Koche's sentiments and buttressed the importance of communities coming up with solutions to their problems so that they don't always rely on government or donor initiatives.
"We have noticed that communities are being affected differently by climate change and it is important that each one comes up with tailor-made homegrown solutions. We decided not to wait for government or donor assistance, as communities, it has become imperative that we get help whilst we are also being innovative on our own."
"In our scenario, we agreed that both men and women were going to work collectively until we achieve our desired results. So far we have received the first rains and most of our desilted rivers and way dams now have some water which is going a long way in alleviating the water shortage," Anna said.
The 5th United Nations Environment Assembly (UNEA) came up with 14 resolutions to strengthen actions for nature to achieve sustainable development goals. The world's ministers for the environment agreed to have actions to protect, conserve, restore, sustainably use and manage ecosystems. The resolution calls for on United Nations Environment Programme (UNEP) to support the implementation of such solutions, which safeguard the rights of communities and indigenous people.
Executive Director of UNEP Inger Andersen said, "Having a universally agreed definition of nature-based solutions is important. When countries and companies claim that their actions are supporting nature-based solutions, we can now begin to assess whether this is accurate and what it entails. This is especially true given the just-released report by the Intergovernmental Panel on climate change on the need to scale up adaptation for which nature-based solutions will be crucial."
Climate change mitigation expert in Zimbabwe's Ministry of Environment, Climate, Tourism and Hospitality Industry, Mr Lawrence Mashungu regarded the de-siltation of rivers being done in Rushinga as a noble idea that needs to be complemented by smart cultivation practices.
"The desilting being done by the communities in Rushinga is a very noble idea at the same time they always say prevention is better than cure. The most fundamental issue around the protection of our river systems and our water bodies is the issue of preventing land degradation, preventing soil erosion by ensuring that we stop stream bank cultivation and practice good agricultural practices that are recommended by the government, the Environmental Management Agency (EMA) among other regulatory bodies."
Rushinga residents are hopeful of a future where communities collectively warm up to different climate change mitigation and adaptation programmes that promote biodiversity conservation and smart agricultural practices. This will also save the women from walking for long distances in search of water.
This article is part of the African Women in Media (AWiM