Nairobi
It's a late Wednesday afternoon in January when we drive into Catherine Mbili's home in Kathonzweni, some 23 kilometres from Makueni Town, in Eastern Kenya, and some two hours' drive from the capital, Nairobi. Her farm, about five acres in total, is green and blooming, with a few mango trees teasing us to pick the ripe fruits.
"We harvest the mangoes just for our home consumption," offers Catherine, as if in answer to the salivating journalists.
We hop over some benches on the farm, with each section having a different crop. She has pulses, green grams, sorghum, and millet, each at different stages of growth. These crops do not need much rain to survive, and their maturity is short, between two and three months.
A culture of relief food
The people of Makueni and the general lower eastern Kenya area were so accustomed to receiving food rations during the drought that they would not put any effort into working on their farms in times when the rains were sufficient, remembers Catherine. However, some residents have refuted this claim, saying the harsh weather conditions frustrated their efforts.
When the relief food finally came in, men would leave their homes rather than sit helplessly while their children cried in hunger. They would give the excuse that they were looking for menial jobs, but in reality, it was the mothers who had to seek every means available to feed their children.
The mother of two adult children says that farming of drought-tolerant crops in the area has changed the outlook of Makueni, an arid and semi-arid area (ASAL).
This area is usually very dry and we get little rain. The drought seasons would find residents very vulnerable, and they would look for anything to feed their children. Our only hope was relief food, "she remembers, adding that this mentality made the people quite lazy since they only waited for help and would not try their hands in agriculture. This is not entirely true, as the residents were tired of planting the same staple crop and not benefiting from it.
"We used to plant maize, which normally takes over six months before it can be harvested. When we put entire chunks of land into maize farming, we had nothing else to farm and nothing to feed our families with, "Catherine adds. Once maize was harvested, middlemen would come and buy it at very poor prices, further discouraging the farmers.
Drought-tolerant crop farming
However, this culture of desperation has changed. Supporting organisations started to offer the residents a different way of putting their land to use.
One is the International Crops Research Institute for Semi-Arid Crops (ICRISAT), which conducts agricultural research for development in the drylands of Asia and Sub-Saharan Africa.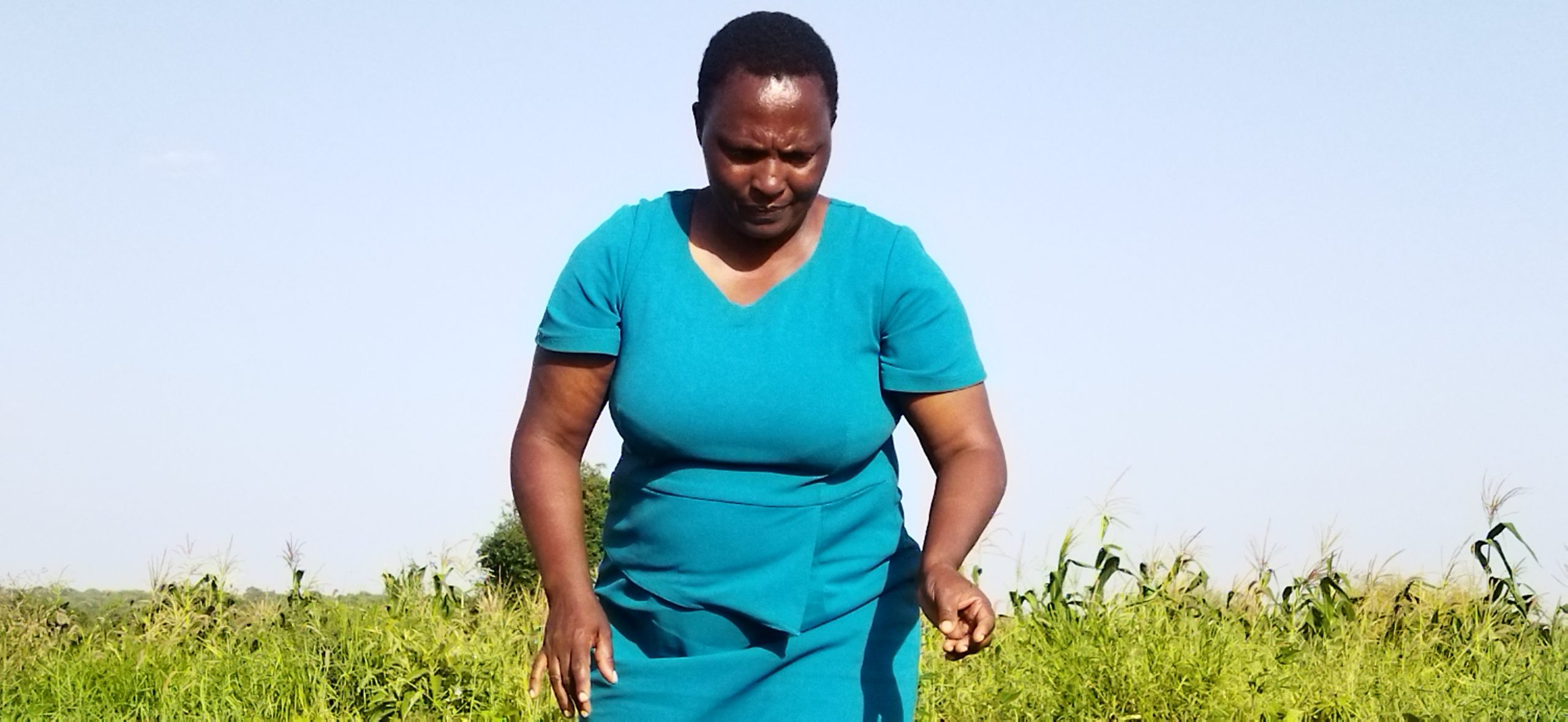 Catherine remembers her journey with ICRISAT over the last decade. There are a variety of drought-tolerant crops (DTCs) grown in Makueni, whose consumption has improved nutrition requirements for the residents. Crops such as sorghum, pearl millet, finger millet, pigeon peas, green grams, cowpeas, and groundnuts account for four of the 10 major food groups that constitute minimum dietary diversity.
The children in Makueni are fed nutritious meals made from locally available crops. A cereal snack made of ground pearl millet is a popular lunch snack. A child only needs to add some milk or water to the flour to make a paste, and then eat it. It does not need to be cooked or heated before eating. It also does not need complicated storage methods.
Catherine, like other agriculture extension officers in the region, undergoes continual training on climate-smart agriculture, offered by the county government with support from non-profit organizations as part of efforts to increase the productivity of DTCs and enhance farmers' knowledge of the use of climate information services for informed decision making along agricultural commodity value chains. The organisations are the Accelerated Institutional and Food Systems Development Program (AIFSD), which offers support to ICRISAT, and Accelerating Impacts of CGIAR Climate Research for Africa (AICCRA). Through them, Catherine is also a trainer of farmers.
Continual farmer training
"I am now training more than 500 farmers within my location, imparting them with skills such as which crop to plant during which season, how to care for the soil by applying mulch, and post-harvest practices to reduce losses, among other useful lessons."
One of the objectives of the African Green Stimulus Programme is to scale up climate-smart agriculture and food security systems. Their plans to support the continent's recovery from the devastation of socio-economic and environmental impacts of the COVID-19 pandemic include coordinating and consolidating existing and new climate change initiatives on the continent.
It acknowledges that agriculture is Africa's main economic driver, with very few countries diversified into other sectors like manufacturing and services. Agriculture, on the other hand, is being negatively impacted by climate change as increases in temperature will result in reduced yields, the prevalence of diseases, and extreme weather events such as drought and flooding. The successful implementation of climate-smart agriculture is crucial in the drive toward sustainable development. The Makueni County Executive Officer in charge of Agriculture, Nzioki King'ora, is advocating for the replication of the Makueni results in other counties of Kenya, saying these crops offer a nutritious food supply for families throughout the year. "These DTC crops were usually regarded as traditional." We want to start a campaign to encourage farmers across the country to go back to planting crops such as sorghum, millet and green grams.
His sentiments were supported by Ganga Rao, a scientist with ICRISAT. He said even young people need to be encouraged to take up farming so as to make use of the latest advancements in agricultural technology, such as the planting of crops with short maturity periods. He added that youth need to be re-educated on the opportunities available in value-added to these crops, where they can bring skills such as digital literacy.
They will add a much-needed asset by enhancing the use of digital technologies to boost agribusiness. This way, they will be self-employed, "he said on the sidelines of a workshop to train agricultural extension officers.
Africa's agricultural programmes for adaptation to climate change and building the resilience of farmers to climate-related and economic shocks require additional support, including scaling up climate-smart agriculture to enhance food security and agricultural livelihoods, the objective reads. The COP26 in Glasgow, Scotland, recognised that soil management practices and optimal use of nutrients are at the core of global food security. The Koronivia Joint Work on Agriculture identified the socioeconomic and food security dimensions of climate change as among the elements that the UN's supporting bodies should start to address in order to reverse the devastating effects of climate change and improve food security.
Sustainable agricultural practices
At COP26, governments recognised that soil and nutrient management practices and the optimal use of nutrients lie at the core of climate-resilient, sustainable food production systems and can contribute to global food security. It was also recognised that while livestock management systems are vulnerable to climate change, improving sustainable production and animal health can contribute to reducing greenhouse gas emissions while enhancing sinks on pasture and grazing lands.
The farmers' change movement from old mindsets to planting DTCs is catching on fast, with neighbouring Taita Taveta County embarking on climate-smart agriculture initiatives. In the Taveta sub-county, for instance, farmers as young as their early 20s are taking up large-scale farming of groundnuts, a move that has attracted peanut-making companies to offer them lucrative deals for their harvests.
We leave Catherine's farm after sampling some of the cakes and pastries that she makes using improved sorghum flour. She receives orders for weddings and other events, although she also runs a small bakery shop in Kathonzweni market where she sells the snacks weekly.
This article is part of African Women in Media (AWiM)/UNEP Africa Environment Journalism Programme 
Do you want to publish this article? Kindly contact janet@africanwomeninmedia.com
About the author: Mercy Gakii is a content creator with 17 years as a storyteller. She writes a wide range of socially interesting stories including agriculture, travel, business and profiles.